This is a Sponsored post written by me on behalf of McCormick & Company. All opinions are 100% mine.
I'm always looking for easy go-to healthy recipes. Especially ones that make enough to freeze a portion for a later day. You know those days when you only have time to pull something out of the freezer.
My family loves any kind of Mexican food. Well at least I do. And I'm the only one that  cooks around here so that means we eat Mexican if they like it or not!
So when McCormick's Spices asked me to make their Sour Cream Chicken Enchiladas, I was all like "heck ya, don't have to ask me twice".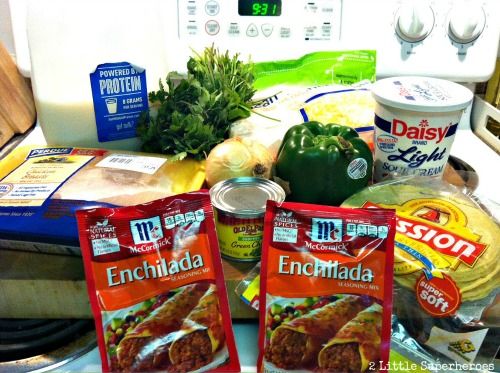 First time using McCormick Enchilada Seasoning Mix.
Check out McCormick.com for more easy and delicious recipes.
Sour Cream Chicken Enchiladas Made Easy with McCormick Spices
Prep time:
Cook time:
Total time:
Ingredients
2 packages McCormick® Enchilada Sauce Mix
31/2 cups milk
1 cup sour cream
1 can (4 1/2 ounces) green chiles, drained
2 tablespoons oil, divided
1 pound boneless
chicken breasts cut into thin strips
1 medium onion, thinly slices
1 medium bell pepper, cut into thin strips
10 flour or corn tortillas (8-inch)
2 cups shredded Mexican cheese blend
Instructions
Preheat oven to 325°F. Stir Sauce Mix and milk in medium saucepan. Stirring constantly, cook on medium heat 5 minutes or until thickened. Stir in sour cream and chiles; set aside.
Heat 1 tablespoon of the oil in large skillet on medium heat. Add chicken; cook and stir 3 minutes or until lightly browned. Remove from skillet. Add remaining 1 tablespoon oil to skillet. Add onion and bell pepper; cook and stir 10 minutes or until tender. Return chicken to skillet. Stir in 1/2 cup of the sauce.
Spread 1/2 cup of sauce in lightly greased 13×9-inch baking dish. Heat tortillas as directed on package. Divide the chicken mixture evenly among each tortilla. Fold over tortillas sides; place seam-side down in baking dish. Pour remaining sauce over enchiladas. Sprinkle with cheese.
Bake 40 minutes or until heated through and cheese is melted.
My favorite kind of recipes are the ones that make enough to freeze for another day. I guess I'm lazy like that.
Homemade in America Giveaway
Since I loved how easy and delicious the McCormick Enchilada Seasoning Mix is I would love to add some spices to one lucky readers spice cabinet. Just leave a blog post comment telling me…
What's your favorite McCormick spice?