This is a Sponsored post written by me on behalf of FrogTape brand painter's tape. All opinions are 100% mine.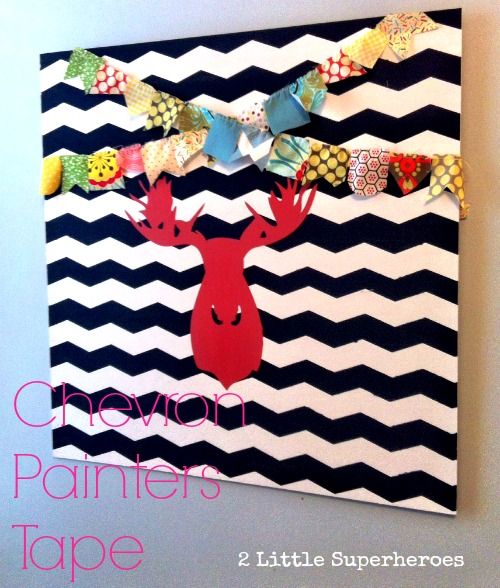 Ready for the coolest thing to hit the craft world since the glue gun?
I'm beyond excited to share my experience with chevron FrogTape® Shape Tape™. The new painters tape comes in Chevron, Wave, and Scallop.
Of course I chose Chevron Shape Tape. Big surprise.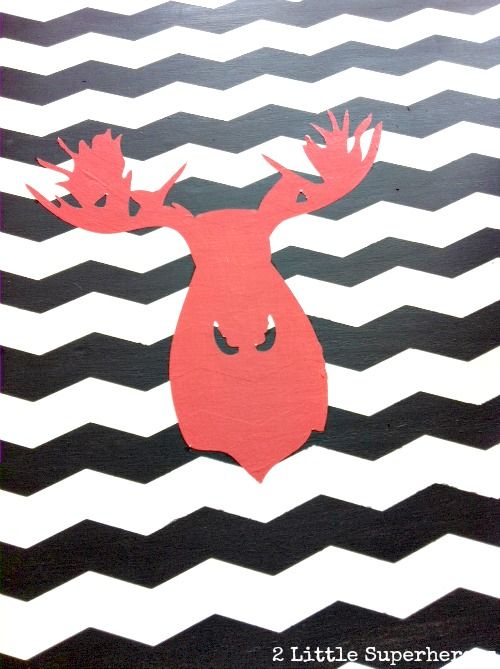 Shape Tape™ is treated with patented PaintBlock® Technology, a super absorbent polymer that reacts with the water in latex paint and instantly gels to form a micro-barrier that seals the edges of the tape, which helps prevent paint bleed.
Basically you just need to know that it works!
I was skeptical that this tape would work. I've had some bad experiences with painters tape in the past. But I didn't even have a speck of paint bleed through.
For this project I chose to do the chevron lines equal distance a part. So I simply used a piece of the tape as my guide. No measuring needed (I'm far too lazy for that).
To be sure all the pieces of tape were actually stuck to the board I used the edge of a paint stick to flatten the tape out.
After a couple of coats of black paint, I nervously peeled back the Shape Tape™. And it came off perfectly.
Next I cut out a stencil of a moose with my Silhouette Cameo.
And since the contact paper I used for my DIY stencil isn't made with the same fancy PaintBlock® Technology as the chevron Shape Tape™ I had to paint the edges with some matte medium. You can pick this up in the paint department of any craft store. It just provides a protective layer so that the paint doesn't seep under the painters tape.
I had to prime the stencil first, only because the pink would never cover that black properly. And after a couple of coats of pink I happily removed the stencil.
Added a little fabric bunting. You know because every moose needs some bunting in his antlers. At least pink moose do.
Follow @FrogTape on Twitter for unlimited chevron tape ideas.
I'm off to paint a chevron bedside table now.
What are you going to use ShapeTape™ on?