When my mom offered to boy the boys a backyard playhouse, I think I was happier than the boys were. We already had a plastic Little Tykes playhouses that I had found on Craig's List for $20, but the boys were quickly outgrowing it. And I desperately wanted a prettier playhouse.
So the search began, with I had a long list of requirements…
wooden

under $300

fit 4 kids easily

included extras (ie. little kitchen, door bell, etc)

durable

not too girly

EASY to construct
Bayberry Playhouse by Toys R Us $249.99
I had found the Bayberry Playhouse at Toys R Us for $249.99 but it was a bit small and the reviews on constructing it said it took hours and was a nightmare.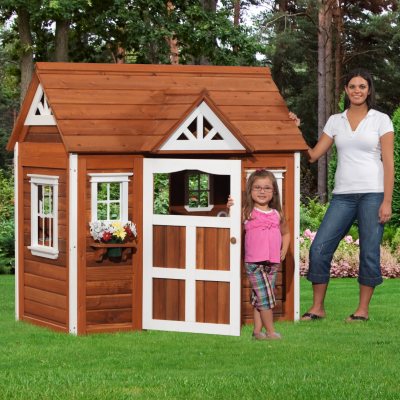 Monterey Playhouse by Sam's Club $269.00
My mom saved the day and found the Monterey Playhouse with Toys at Sam's Club that looked perfect, except the price. It was listed online for $449.00, way more than I wanted too spend I wanted my mom to spend. But after an online search I discovered that if you picked the playhouse up at a Sam's Club store it was only $269.00. Why it doesn't say that on their website makes no sense! So of course we chose that option. We picked it up and had to take all the backseats out of our minivan to get it to fit.
Now for the part I thought might end our marriage. Yeah we're not one of those handy couples. We started on a Saturday and thought it would only take us a day, but with the constant interruptions from the boys it took us 2 days. It took about 5 hours total to construct and we ran into NO problems! The instructions were easy to follow, made sense, and all the pieces came labelled. This was a nice surprise to both of us.
Our Playhouse! I considered adding little flower pots in the flowerpot holders but with 2 boys what would the point be!



Originally we thought we would have to build a little deck for it, but it sits on a flat patch of our yard. We have a corner of our yard that has playground mulch covering it. So we don't need to worry about mowing the grass around all the toys.
I had to personalize it with some vinyl letters I cut out with my Cricut machine. I also added the word 'hi' above the doorknob. And I figure if the playhouse starts to show it's age and fade in the future I can just paint it.
The boys and their friends love it and I hope we can get 4 or 5 more years worth of play out of it.